Three Zone Split Tube Furnace (Cvd)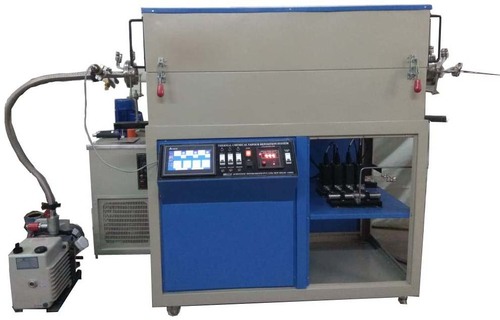 Three Zone Split Tube Furnace (Cvd)
Product Description
Three Zone Split Tube Furnace (Cvd)

Number of zone :One/Two /Three Zone (as per user requirement)
Heating temperature range : Upto1200 C/1400 C
Heating Element: A-1/Silicon Carbide
Temperature accuracy : 1 C
Furnace tube size : ID = 60 mm /OD =65mm/ length= 1200 mm
Quartz tube with couplers :High purity fused quartz
Size:ID =60mm, OD=65mm,length=1200mm
Flanges:
Stainless steel 304 flanges on both ends, these are high vacuum flanges with double silicon O ring and metal ring. On one and provision for gas purging through valve and hinge door or ease of placing sample. At other end vacuum KF-25 connection for vacuum pump, KF-10 connection for vacuum gauge and release valve
Heating rate : 15 C per Minute (max.) or user settable Each Hot Zone length : 200 mm length
Display : 7 LCD Touch Screen HMI to control all vital operation of CVD i.e. temperature and gas flow. With Data logging of temperature and gas flow.
Construction : Horizontal and split type
Insulation : Vacuum formed Zirconia fiber
Shell Construction : MS body fabricated from 20/18 gauge sheet, powder coated for superior finish. Double layer body for low surface temp.
Temperature control : ( 1x16=16 segment) PID programmable Digital Temperature controller x 3 no. (separate for each zone)
Temperature sensor : 3 numbers (k type-1200 C/R type-1400 C)
Power control : Through the phase angle controlled SSRUnit/Thyristor Unit
Vacuum pump and gauge :
In the range of 10-2 mbar by using Direct of Drive Rotary pump of capacity 200ltr/min with SS bellow andAnalogue Pirani Gauge Range 0.5 mbar to 10-3mbar with sensor having KF-10fitting. (Optional)
Gas purging arrangement
Digital vacuum gauge wih vacuum display upto 10-6 torr.
Gas mixing chamber : One unit kept between the Rotameters and the furnace
Furnace stand to height of 1 meter
Safety:
Over current and short current protection,Thermocouple break down alarm, high temperature alarm.
OPTIONAL:-
Chiller with Circulation Pump
Gas Cylinder with Regulator
Mass flow controller for different gases, flow rate upto 500 sccm or as required with digital display (Optional)
Rotameter for different gases with needle valve.
Centrifuges ystems
Contact Us
WH-20, Mayapuri Industrial Area, Phase-1,, New Delhi, Delhi, 110064, India
Phone :08045478202